In a an actual barn, locked away for decades, sat two cars under a pile of musty, stinky newspapers and magazines. These were not any ordinary cars but a couple of vehicles that belonged to a man named Roger Baillon. Baillon was a very successful French businessman who owned companies in the transportation sector and he had a dream to collect the best pre-war automobiles that he could find. In the 1950's he was doing very well with his business and started his pursuit of greatness and over time amassed an impressive collection of over 120 cars.
Gizmag
He had a very rare Talbot-Lago T26 convertible that  was once owned and driven by King Farouk, of Egypt. Baillon also found an incredible Ferrari 250 GT that had once starred in a Jane Fonda film. Its these type of cars that he loved to collect because they had great stories and personalities, he thought it would be great to one day house them all inside his own personal museum. But as most real life stories go, there wasn't a happy ending.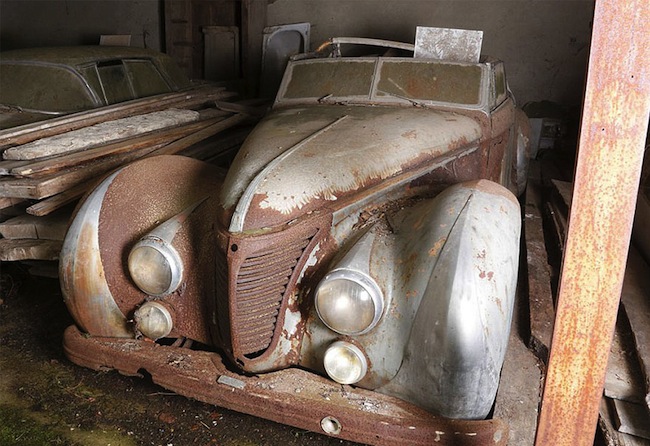 awesomeinventions
In the 70's Baillons business went south and he was forced to stop his collecting and restorations and at one point he sold half of his beloved car collection just to keep his family and finances afloat. The ones he did keep were well documented and stored away on his property safe in various barns. This didn't matter much because after Roger died, his son who didn't have the same affinity for the car collection, sealed the garages and barns and left the collection to rust and fall apart over the next 20 years.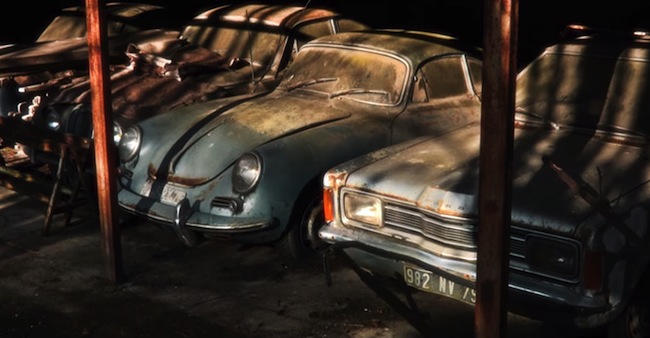 When the son died in 2014, Roger Baillon's grandchildren received a letter from the estate lawyer saying that there was an inheritance and that they should come in immediately to look over the paperwork. When they found out that the old man's car collection was still in existence, it blew them away. Sure, they had heard the stories, but their father had never spoken of the collection after his father Roger had died. The grand kids thought they were long gone.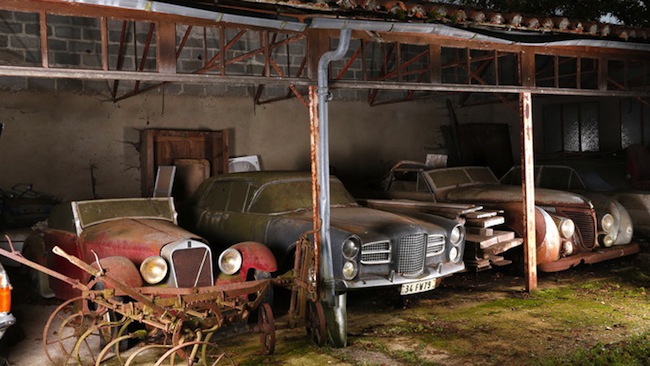 The grandchildren had no idea what the cars were or what their worth was so they contacted some local appraisers to come out to the property and give them an idea of what was in the barns. What the appraisers found shocked them to their core.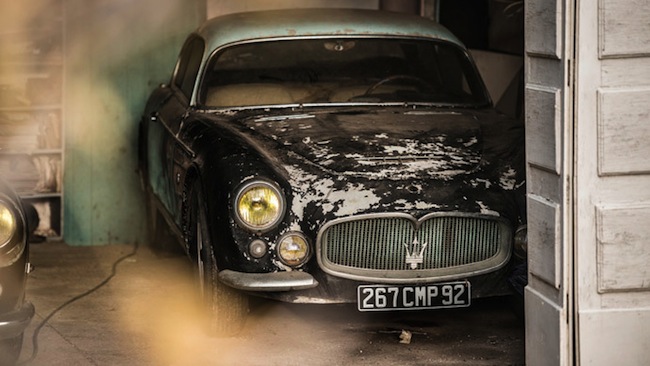 The appraisers soon found vehicles that they didn't know still existed and told the kids that the entire collection, even though they were mostly rusted and non-operational, would be worth close to $15,oo0,000 dollars and maybe more if they were restored. The grand children didn't want to deal with the all the time and money it would cost to restore the cars so they agreed to see the cars as they were: Barnfind's.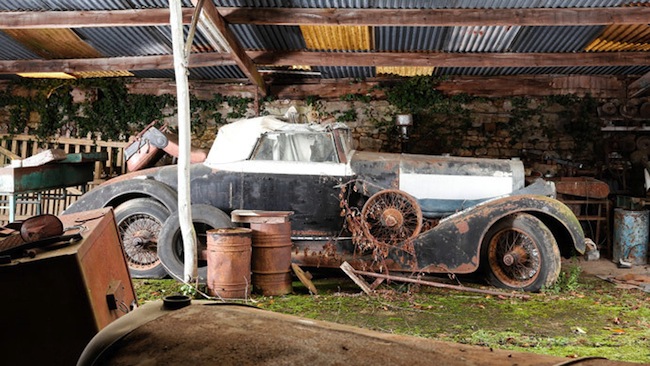 Matthieu Lamoure and Pierre Novikoff were the classic car experts from Artcurial who organized all the paperwork and brought the cars to auction in 2014. What happened was something nobody expected; the cars that were thought to possibly fetch $15 million ended up fetching a mind boggling $52,236,000!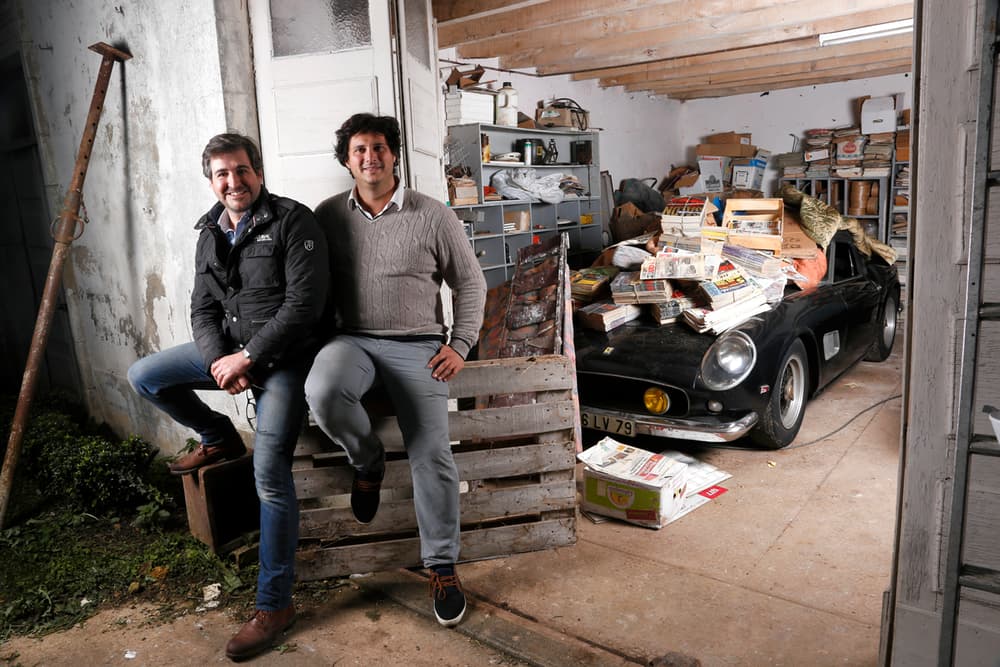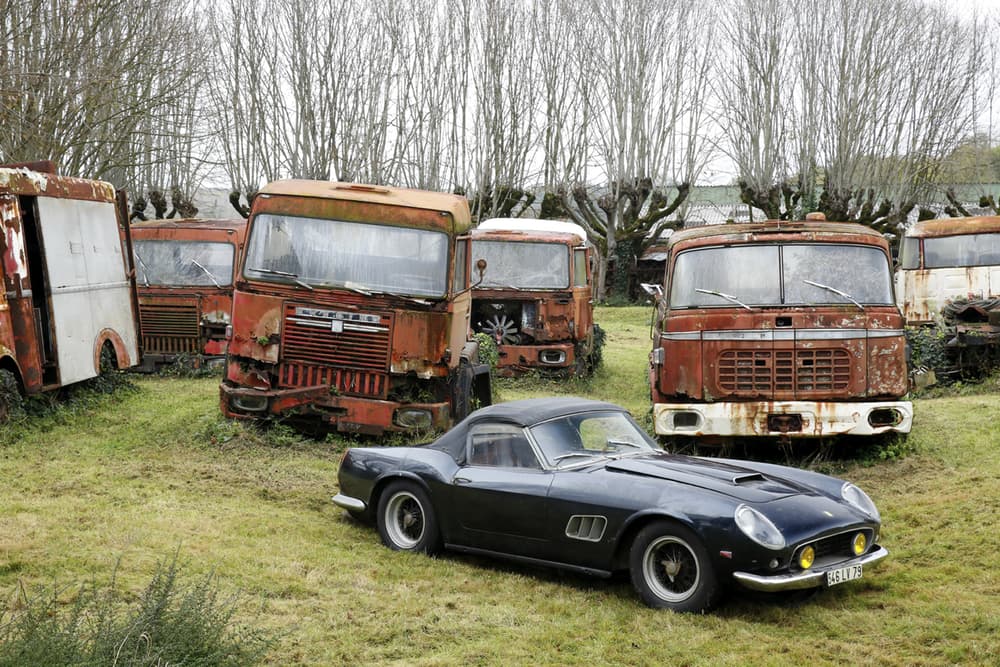 The star of the sale was the car everyone knew was going to fetch the highest bid, but what that was nobody would have guessed. The 1961 Ferrari 250 GT SWB California Spyder didn't fail to disappoint and brought in a world-record $18.5 million.